Join The 1066 Specials Supporters Club
Become a Friend of the 1066 Specials by joining The Specials Supporters Club
Help sustain the Future of "The most inspirational and aspiring football club in Sussex" for just £10 a year.


Why Support the 1066 Specials?
The 1066 Specials football club was founded in 2003 and has provided coaching to over 250 young people, with special needs, since its formation. We are accredited with the FA Charter standard and were honoured by Her Majesty with the Queen's Voluntary Service Award in 2013. We are not specific about the nature of disability that we cater for and it is  our  mission to provide opportunities for all our players to progress  within the  National Game.
Coaching sessions are themed to give an interesting and stimulating experience to the participants. The friendly ethos of the club encourages confidence, self esteem, co-ordination, and the honing of social skills. It also produces darn good footballers!
Parents, guardians and carers are welcomed and encouraged to attend training and participate fully in the club's activities.
The 1066 Specials is a 100% voluntary organisation. The coaches, officers and committee give their time willingly and  all volunteers are  welcomed and valued.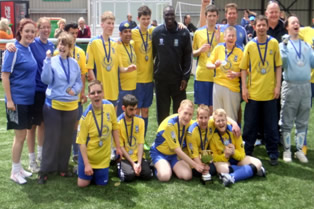 This special club harbours great aspirations and is respected, in both Sussex and Kent Disability football  communities, for their spirit and sportsmanship. From modest beginnings we now boast four adult teams as well as two junior sides. We continue to grow as do our costs. It is vital that we raise sufficient finance  annually. We have to provide for on-going commitments such as  venue hire, travel  expenses, renewal of kit and equipment. We also finance opportunities for players and coaches to achieve qualifications that will maintain the high standards of the Club as well as  enriching  CV's.
Inevitably, expenses will continue to spiral  and  without  your valuable support, this wonderful football team could be put at risk. The 1066 Specials are too important to lose!
How will you benefit from becoming a friend of the 1066 Specials and joining the Supporters Club?
You immediately become part of the 1066 Specials family!
You will receive 'The Specials Report' and be kept up to date with the activities and progress of the club and its teams.
You are welcome to attend training sessions.
You will be invited to attend the AGM and Presentation events.
You will be advised of and receive invitations to all social events.
But, best of all…
You will enjoy the warmth of self satisfaction in the knowledge that you are helping to put smiles on the faces of  young people as they surmount huge daily challenges, that pale in to insignificance, as they parade  football talent equal to their peers.
How to sign up…
Please complete the form below to sign up to the Specials Supporters Club.  Alternatively, click here to download an application form to complete and post to us.  If you don't wish to join the Supporters Club but would like to make a one off donation you can do so at BT MyDonate.  Many thanks for your support.